Damar earns Guinness World Records title
Posted February 11, 2020
Client Watch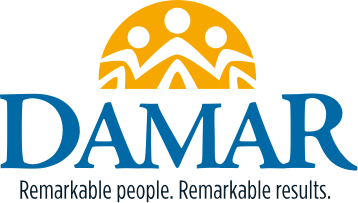 Routinely recognized as a national leader in providing care and services to people and families affected by autism and other developmental and behavioral disabilities, Indianapolis-based Damar Services is now a GUINNESS WORLD RECORDS title-holder.
Attendees at the annual Damar Gala set a new GUINNESS WORLD RECORDS record Saturday night for the most people making sensory bottles simultaneously, with a final number of 662 people working together to assemble the bottles, which can help people with developmental disabilities calm down in stressful moments.
An official GUINNESS WORLD RECORDS adjudicator was on hand to verify the results.

As Damar provides services to children and adults living with autism and other intellectual and developmental disabilities, it goes through a lot of sensory bottles, which are plastic containers filled with fluid and items such as glitter that move slowly when shaken. Often referred to as calm-down bottles, the bottles assist people with developmental disabilities by helping to calm their breathing and regulate their emotions.

"Achieving this GUINNESS WORLD RECORDS title was a great way to engage our supporters in doing something truly tangible for the people we serve," said Damar Services CEO Jim Dalton. "These folks are so generous in so many ways, we're delighted to show our appreciation by giving them the chance to be a part of a GUINNESS WORLD RECORDS title achievement."

The bottles assembled at the Damar Gala, presented by Hendricks Regional Health and A&T Mechanical LLC, will be used at Damar's ABA clinics and at outreach events in Central Indiana.

About Damar Services, Inc.

For more than 50 years, Damar Services has been a leader in providing services to children and adults challenged by autism and intellectual, developmental and behavioral disabilities. From its main campus on Indianapolis' southwest side, a northeast side clinic and other locations across the state, Damar offers residential and community-based treatment, outpatient behavioral health services and ABA Autism Services by Damar. In addition, Damar operates two schools and provides foster care services. For more information, visit www.damar.org.